Each year, News Foo gathers people in the digital news space to talk about an agenda created on the spot. Below, three participants offer their reactions and insights to this year's conference, sponsored in part by Knight.

"Fix foreign news, make it awesome," by Lara Setrakian, foreign correspondent

The round of us who made it to the News Foo session on foreign news started from a point of frustration and dismay: so much felt broken, so much felt lost. The glory of foreign correspondents had been crunched into a generation of backpack journalists, or networks bureaus that don't have the reach or resources to cover all the vital stories of the day.

The end result is a cynical, cyclical dilemma around foreign news. We assume Americans aren't interested in global issues, so we don't cover them much, which gives our audience less of a chance to get interested in them in the first place.

So how do you make foreign news accessible, interesting and, yes, awesome to the wider public?

We brainstormed around three foreign news flaws and how they might be fixed. Krishna Bharat, the founder of Google News, and Jim Frederick, the longtime digital boss of Time Magazine, were with us for adult supervision. At the end, we felt good. We saw potential to change, to add and to enhance the way we cover the world. It just takes some creative work in putting new pieces together.
Make More Foreign Correspondents. The decline of foreign news is fundamentally a resource question: overseas bureaus cost a lot, and moving correspondents abroad with their families became a luxury. But maybe it's time to make more correspondents, from the ground up. More local journalists are proving themselves to a global audience, with the multimedia skills and strong enough English to tell their own stories. If we harness their talent, pay them properly and let them shine (instead of just using them as fixers), we could fix the correspondent deficit.
Make Background Interesting. In a Pew Center poll, Americans said that a "lack of background," the need for context, was the number one reason why they don't consume more foreign news. That's an easy fix. There is knowledge and experience that stands untapped, easy to serve up through interesting and interactive backgrounders on any subject. Startups like NewsBound and my own work at Syria Deeply have proven it true. A backgrounder on Hezbollah might never get the same click count as a piece from the southern suburbs of Beirut, and it won't rate even close to a hot domestic story. But over time, that backgrounder will help fix the foreign news ecosystem, helping more people tune in and comprehend what's happening in their world.
Make News Go Sci-Fi. Technology can do things for foreign news that we're just starting to imagine. Personally, I call them sci-fi news dreams: wild fusions of journalism and technology. That can include anything from immersive images from far flung locations (i.e., Tahrir Square on your Google glasses) to a closer examination of humanitarian conditions anywhere on the ground (something Sam Gregory from Witness was eager to explore). There is also something social that we're missing, in terms of ways to construct a global conversation. While reporting from the Arab Spring, I had people - with a geographic spread from Missouri to Morocco - tweeting me questions. Put them together and they could have a wicked conversation.
Foreign news can be fixed, it just falls on us to reimagine the domain. That's something we've now begun to do – first in our circle jam at News Foo, and beyond as we took these thoughts home.

"Why change is good," by Erin Kissane, editor, OpenNews Source
When I walked into the Cronkite School on the first night of News Foo 2011, I didn't know a single person there, and had no idea why I'd been invited — I'm an editor and a writer, but not a journalist. It was life-changing in a practical way: the final morning of the conference was the beginning of my work with Dan Sinker and the rest of the amazing crew at OpenNews. It was also a pretty hard tweak to my understanding of what was happening in the journalism-tech overlap. From my perch outside journalism but mostly inside the tech world, I'd seen a lot of conversations about paywalls and the economic future of news, but although I cared a lot about those challenges as a reader, they presented a smooth, closed surface, with nothing for me to grab onto or work with.

What I found at News Foo, and later at the MIT-Knight Civic Media Conference, was a group of people who cared intensely about those problems, but also about many, many others: how to do news better in dozens of big and small ways, how to tell stories ethically and well, how to use technology to serve readers (not just advertisers) and how to sort out and keep alive the most useful parts of the journalism-industrial complex in a moment when so many familiar constants had turned into variables. And many of them were building things — web apps, mobile apps, brand new publications, beautiful data-wrangling monstrosities, drones — and they wanted help.

This year's News Foo was clearly going to be different from my first. I was going to see colleagues and friends and people whose work I follow and deeply admire. I spent time in panels on serendipity and disaster response, met people trying to figure out how to support journalists who cover bloody conflicts from outside the war zone and aren't trained as conflict journalists, and ran an impromptu session with Kat Meyer on the overlap between the long tail of journalism and the thing formerly known as the book. I missed an apparently amazing session on sexism, but got to see Harper Reed's extraordinary, vulnerable live AMA (ask me anything) on his work as Obama for America's Chief Technology Officer. I had hallway and coffee-shop conversations with book- and news- and democracy nerds, and I came away more certain than ever that the intersection of journalism, civic media and tech houses a dwarf-star-dense blob of smart people who care about important things.

They're also hilariously good at werewolf.

Invitation-only conferences make me nervous, and I came to this year's conference wondering if my slightly higher degree of familiarity would reveal cliquishness or insularity. But the showrunners at NewsFoo pulled together a group that combined the most insider-y people in news with people from all over the margins, including some from well outside journalism. The result felt a little dreamlike, like a working dinner party full of people who get even more interesting in proximity to each other. Every year, the conference changes out about 40% of its participants, and I suspect next year will be one I don't attend — and that makes me more excited about the event itself, and optimistic about its lasting value.
"3 lessons learned at NewsFoo for building news products," by Chris Altchek, co-founder and Chief CEO of PolicyMic
At NewsFoo, I spent the weekend listening, learning and debating with the smartest people I've ever met about the future of news. Here are my three biggest takeaways:
1. A lot of really smart people are building the future of news.
I felt like this 20 times this weekend: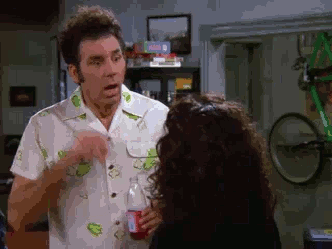 Digital news may not be the most sought after industry for venture capitalists, but my biggest takeaway from NewsFoo was that there are many big thinkers across industries focused on building better news products. From the Internet pioneers like Matt Cutts, Chris DiBona and Krishna Bharat from Google, to Sue Gardner at Wikipedia and Harper Reed from Obama For America, some of the smartest people in tech have a passion for improving the news ecosystem. News entrepreneurs should leverage these people for feedback, ideas and support.
2. Credibility in news is earned.
Having a deeply established brand name like New York Times or the Financial Times used to be the only important factor in winning your audience's trust. But over the past 15 years, Americans have come to trust the mainstream media less and less. With the web totally changing how audiences consume news, expectations for transparency in media have increased. It's no longer OK to simply rely on brand. Audiences want transparency: sources, links, data, opposing viewpoints and social proof. The requirements for building trust have increased. This has provided huge opportunities for news and information startups to earn trust quickly with the right tools. Wikipedia has become one of the most trusted information sources in the world in less than 10 years through its transparency.
3. Constraints promote creativity.
This lesson was the title of the session hosted by Libby Brittain, where several leading entrepreneurs explained how simplifying their products improved them greatly. Matt Galligan from Circa explained how his team's decision to focus on the atomic unit of news (facts, stats, quotes or images) allowed them to create a really sophisticated mobile product that is incredibly easy to use. One participant explained how Instragram, with only several filters, has allowed millions of individuals to become creative photographers. Similar fancy filters and social tools have existed for a long time through popular cameras and applications, but none inspired millions to become amateur photographers like Instagram. Upworthy has also become incredibly successful by doing one thing – and doing it very well: making socially-conscious viral news.
I left NewsFoo focused and inspired. I'm excited to test new ideas at PolicyMic and am confident that with this network of thought leaders invested in giving back, I'll be able to make better decisions and see problems before they arrive.
Related: "From #newsfoo: Five opportunities for the news industry" and "The kids are alright: Six lessons for news from young people" on KnightBlog.