SportsManias Digital Media Summit
Video from the SportsManias Digital Media Summit was streamed here on Friday, Aug. 21, 2015. Video from the Summit has been archived in the below Vimeo album. See the conference agenda or follow the conversation on Twitter with #sportsmaniasdigital.
---
Knight News Challenge: Elections
Video of the Knight News Challenge: Elections winners announcement were livestreamed streamed on this page from the Annette Strauss Institute for Civic Life, UT Austin Moody College of Communication on Wednesday, July 22, 2015.
Breaking Through: John Bracken Announcement from Knight Foundation on Vimeo.
Related Links
22 ideas win Knight News Challenge: Elections by John Bracken and Jennifer Preston on Knight Blog #newschallenge #elections (7/22/2015)
Knight News Challenge awards $3.2 million for ideas better inform voters and increase civic participation - press release, 7/22/2015
---
Rethinking Libraries in the Digital Age
Archived video from June 8, 2015
John Palfrey
The John S. and James L. Knight Foundation along with Friends of the Miami-Dade Public Library, and the Miami-Dade Public Library System cordially invite you to "Rethinking Libraries in the Digital Age" with John Palfrey, Knight Foundation board chair and author of "BiblioTech: Why Libraries Matter More Than Ever in the Age of Google."
Even in the age of Google and e-readers, libraries today matter more than ever to communities, says author and national thought leader John Palfrey. In fact, communities need libraries to ensure that information is free and accessible to all - not just stored in the privately owned cloud – and to provide staff that help navigate ever-growing online information sources. They can also serve as a public space that connects people, opportunities and new ideas. Yet to thrive amid strained budgets, libraries need to act quickly to innovate and adapt in the digital era. As public, school and academic libraries ponder their futures, Palfrey will talk about his new book "BiblioTech," and ways to chart a bright future for these institutions so essential to U.S. democracy.
This event is a part of Miami's continuing community conversation on the future of libraries, which began in fall 2013 with the Mayor's Blue Ribbon Taskforce on Miami-Dade Public Library System and continued in September 2014 when Knight Foundation brought library experts to Miami from across the country to share their experiences in library innovations in the 21st century.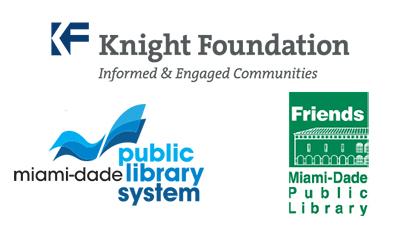 ---
Learn more about the Media Learning Seminar
Media Learning Seminar Agenda
Miami, Fla. May 18-19, 2015
MONDAY, MAY 18
9:00 a.m.
Welcome
Alberto Ibargüen, president and CEO, Knight Foundation

9:30 –11:00 a.m.
The State of Community News and Engagement
Moderator: Jennifer Preston, vice president, journalism, Knight Foundation
Speakers: Michelle Srbinovich, general manager, WDET 101.9 FM,
Vincent Duffy, news director, Michigan Radio
Stephen Henderson, editorial page editor, Detroit Free Press
John Bebow, president and CEO, The Center for Michigan
Chastity Pratt Dawsey, reporter, Bridge magazine, The Center for Michigan

11:15 – 12:30 p.m.
Communications that Advance Change
Introduction: Bahia Ramos, co-director, KCIC, Knight Foundation
Speaker: Mary Lou Fulton, sr. program manager, The California Endowment

12:45 – 2:00 p.m.
How Institutions Go Digital
Moderator: Jennifer Preston, vice president, Journalism, Knight Foundation
Speaker: Sree Sreenivasan, chief digital officer, Metropolitan Museum of Art

3:45 – 5:30 p.m.
What's New; What's Next?
Amy Webb, founder, Webbmedia Group Digital Strategy
TUESDAY, MAY 19
8:30 – 9:00 a.m.
Knight-Talks: Successes, Failures and In-between
LuAnn Lovlin, director of communications, The Winnipeg Foundation
Stuart Comstock-Gay, president, Vermont Community Foundation
Note: Video is embedded below with "Design Thinking...".

9:15 – 10:15 a.m.
KCIC Deep Dive Presentations; Design Thinking and Learning Together
Moderators: Susan Patterson, co-director, KCIC, Knight Foundation
Panelists: Daniel X. O'Neil, Chicago Community Trust/Smart Chicago Collaborative; Kelly Ryan, CEO, Incourage Community Foundation; Emmett D. Carson, Ph.D., CEO, Silicon Valley Community Foundation; Chris Daggett, president & CEO, Geraldine R. Dodge Foundation

10:30 – 11:45 a.m.
Community, Technology and Partnerships
Moderator: Laurenellen McCann, civic innovation fellow, Open Technology Institute
Panelists: Demond Drummer, managing director, The Connect Chicago Challenge
Kathleen Dickhut, deputy commissioner, planning & development, City of Chicago
Asiaha Butler, President, resident association of Greater Englewood/R.A.G.E.

12:00 – 1:45 p.m.
The Responsive City: Communications in Context
Moderator: Alberto Ibargüen, president and CEO, Knight Foundation
Speaker: Susan Crawford, co-director, Berkman Center for Internet & Society, Harvard University
---
Thank you for joining us on Sept. 29, 2014 for a discussion with national thought leaders on the future of libraries. The digital age is making libraries more - not less - important to education, the economy and our civic life. The discussion above focused on how to ensure libraries are more engaging and innovative community centers into the future. This event was sponsored by Knight Foundation and The Miami Foundation.
The speakers:
Read more here on Knight Blog. You can also follow along on social media using #libraries.
---
Archived events